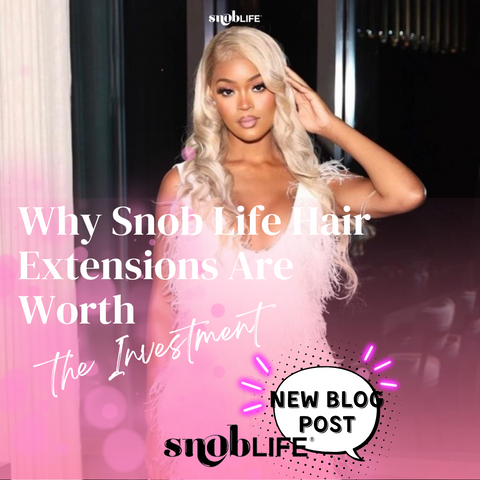 Snob Life Hair Extensions have gained a reputation for being some of the highest quality and most sought-after extensions on the market. But with so many brands and options available, what sets Snob Life apart and why are they worth the investment?
First and foremost, Snob Life Hair Extensions are made with 100% human hair, meaning that they look and feel just like your natural hair. This means that they can be styled, cut, and colored just like your own hair, giving you the freedom to create any look you desire. Additionally, Snob Life offers a wide range of textures, from silky straight to kinky curly, so you can find the perfect match for your hair type.
But it's not just the quality of the hair that makes Snob Life a top choice for extensions. The brand also offers a variety of innovative products and accessories to make installation and maintenance a breeze. From lace frontals and closures to holding sprays and melting bands, Snob Life has everything you need to achieve a flawless, natural look.
Another benefit of Snob Life Hair Extensions is their longevity. With proper care and maintenance, Snob Life extensions can last for months, making them a cost-effective option in the long run. And because they're made with real human hair, they won't damage your natural hair like synthetic extensions can.
But perhaps the biggest reason to invest in Snob Life Hair Extensions is the confidence they can bring. A great set of extensions can instantly transform your look and give you the confidence to take on the world. Whether you're looking to add length, volume, or simply switch up your style, Snob Life has the perfect extensions to help you achieve your hair goals.
In conclusion, if you're looking for high-quality, versatile, and long-lasting hair extensions that will help you look and feel your best, Snob Life is the way to go. With their commitment to quality, innovation, and customer satisfaction, Snob Life Hair Extensions are truly worth the investment. So why wait? Try them out for yourself and experience the Snob Life difference today!