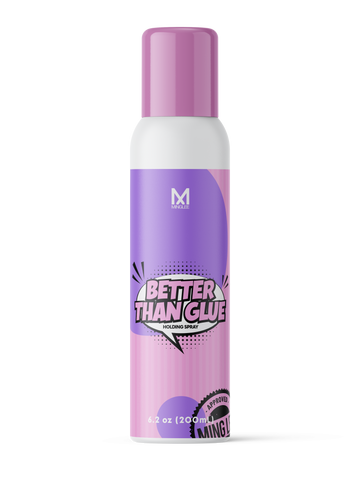 If you want your wig to be more secure but you don't need to keep it on for an extended amount of days use holding spray. It has the hold of glue but can be removed easier to where you can take your wig off daily and apply it the next day without having to do too much to your lace. How the steps below to lay your frontal wig with holding spray: 
1. Braid down hair into cornrows and secure hair out of the way with a wig cap being sure no hair is left out to prevent damage to your edges from the glue being applied.
2. Remove excess oils from your hairline with a gentle cleanser. Like Micellar cleansing water or rubbing alcohol.
3. Time to test fit your wig on your head, line the wig up to your natural hairline about an inch over your hairline. Be sure you tighten your elastic band in the back so that the wig fits snuggly but not too tight on your head.
4. Take the wig off and apply the first layer of holding spray across your hairline. Allow the first layer to dry and apply a second layer of holding spray only if you are going to want a stronger hold.
5. Blow-dry the holding spray and once it's tacky, place the wig back on your head, being sure to not lay the lace down yet, adjust the back of the wig to fit naturally.
6. Match the hairline again and place the lace over the holding spray
7. Press the lace into place with a comb working it through the hair.
8. If you want baby hairs to be sure to cut strands of shorter hair along the hairline and get to laying those edges
9. Pull hair away from your hairline with clips and lay your edges
10. Use your lace band or a scarf over the edge of your lace to mold it into place
11. Style wig as desired
12. Once the styling is done remove the lace band or scarf and trim the excess lace off the wig.